The Ultimate Custom Fishing Rod Manufacturer
Timely Delivery for Your Bulk Orders, Every Time!
The Ultimate Custom Fishing Rod Manufacturer
Timely Delivery for Your Bulk Orders, Every Time!
Struggling with inconsistent quality in bulk orders? We guarantee consistency in every rod.
At SYG Tackle, we're not just creating fishing rods, we're crafting a legacy of excellence. Every rod is a testament to our unwavering commitment to quality, ensuring consistent performance in every batch, in every order.
With SYG Tackle, you're not just buying a product, you're investing in a promise – a promise of quality that never compromises.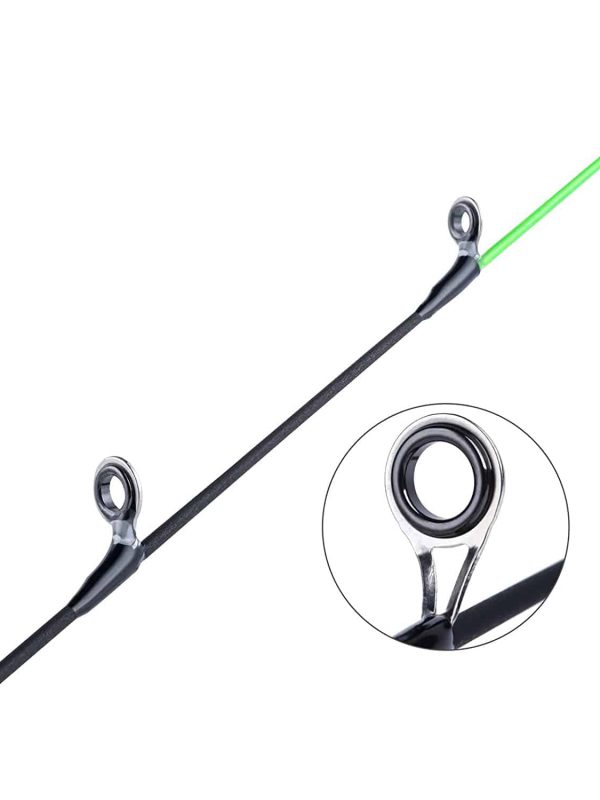 Explore Our Customizable Fishing Rods
Explore Our Craftsmanship: Each of our rods is meticulously crafted, reflecting our dedication to superior craftsmanship and exceptional performance. Whether you're after freshwater or saltwater, fly fishing, or trolling, we've got a rod that's tailored for you.
Crafting Unique Solutions for Your Business
In the world of fishing gear, differentiation is key. At SYG Tackle, we provide you with the unique opportunity to offer your customers something truly special – custom-made fishing rods tailored to their exact specifications.
Whether it's specific materials, designs, additional features, or finishes, our end-to-end customization process enables you to cater to a diverse range of customer preferences, adding value to your business offering and setting you apart from the competition.
A Commitment to Service Beyond the Sale
Our relationship with our customers doesn't end at the point of sale. We believe in providing exceptional after-sales service.
Whether you need guidance on using your custom fishing rod, have questions about maintenance, or need help with a repair, our dedicated customer service team is always on hand to support you. We're not satisfied until you're satisfied.
Experience our commitment to quality firsthand, we're not just manufacturing rods, we're crafting experiences. They are more than just a tool, it's a work of art.
Painstakingly crafted by our seasoned artisans, every piece is a testament to our commitment to unparalleled quality and design.
We handpick the finest materials and obsess over every tiny detail, ensuring every rod we craft meets the highest standards of strength, flexibility, and aesthetics.
Transparent Pricing for Tailored Solutions
We believe in clear, straightforward pricing. With SYG Tackle, what you see is what you get – no hidden costs, no surprises. Just premium, tailored fishing rods at competitive prices.
Customized Solutions Delivering Exceptional Results
In our case studies, we highlight the journey of our customers, showcasing how our tailored approach to fishing rod customization has helped businesses like yours thrive. Watch the video to see our commitment to quality, customization, and delivery times in action.
Our Speed, Your Advantage
Beating the Clock, Every Time
Why wait longer for your perfect fishing rod? With SYG Tackle, get your custom sample in just 15 days, 40% faster than the industry average.
And for bulk orders, we're ahead of the curve with a swift 45-day delivery, 50% quicker than our competitors. Experience efficiency like never before with SYG Tackle.
Working with SYG Tackle has been a game-changer for our fishing tackle store. Their bulk custom fishing rods have become our top sellers. The quality and attention to detail are unmatched, and our customers appreciate the personalized options. Not only have we seen an increase in sales, but our customers keep coming back for more. Thanks to SYG Tackle, we've established ourselves as a go-to destination for custom fishing gear.
As a fishing charter company, providing the best equipment to our clients is crucial. That's why we turned to SYG Tackle for our bulk custom fishing rods. The level of customization they offer allows us to meet the diverse preferences of our customers. From choosing the rod length to selecting handle materials, our clients are thrilled with the personalized options. The durability and performance of the rods have exceeded our expectations, making every fishing trip an unforgettable experience. SYG has become our trusted partner in delivering exceptional fishing adventures.
We were searching for unique and personalized gifts to impress our clients, and SYG Tackle delivered exactly what we needed. The custom fishing rods we ordered with our company logo and branding were a huge hit. Our clients were thrilled to receive such a thoughtful and high-quality gift. The team at SYG made the entire process seamless, from design to delivery. We highly recommend their services to any company looking to make a lasting impression.
Ready to Reel in Success with Our Custom Fishing Rods?
You've seen our dedication to quality, customization, and delivery. Now it's time to experience it for yourself. We're ready to provide you with the perfect fishing rods tailored to your business.